By Demi Hurst, ABSN Admissions Counselor.
The Answers to 5 Commonly Asked Nursing School Questions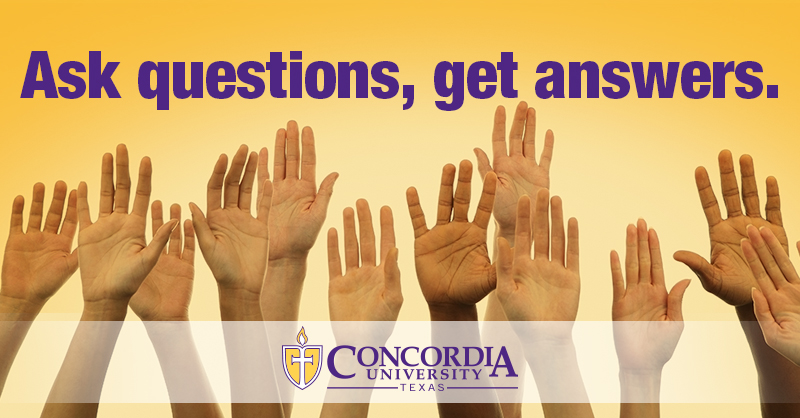 As a career changer, you probably have many nursing school questions, including how much time it will take, how challenging it will be, and, most importantly, how soon you can start working as a nurse in a healthcare setting. Whether you've recently made the decision to enroll in
Concordia University Texas's Accelerated Bachelor of Science in Nursing (ABSN)
track or still need more convincing, here are the answers to the top nursing school questions I receive from students like you who are just getting started.
1. How soon can I start working as a nurse?
Our nation is facing a nurse shortage; at the same time, prospective nursing students are being waitlisted or turned away from nursing schools due to capacity issues. This is not the case at Concordia University Texas – with three start dates per year (January, May, and August), you don't have to wait to enroll. Once you meet the
requirements for the ABSN track
, you can begin when you are ready, not just when a spot becomes available. To become eligible to apply, you must complete your life sciences and all other required prerequisites with a 3.0 or higher. Soon after completion,
you can enroll in the ABSN track and become a nurse in as few as 16 months.
As you begin the ABSN track, there is no wasting time – you will feel like you are already working because clinical rotations begin in the first semester. Starting clinicals right away will help acclimate you to working in a healthcare setting, combat any of your first-day clinical fears, and boost your confidence down the road.
Clinical placements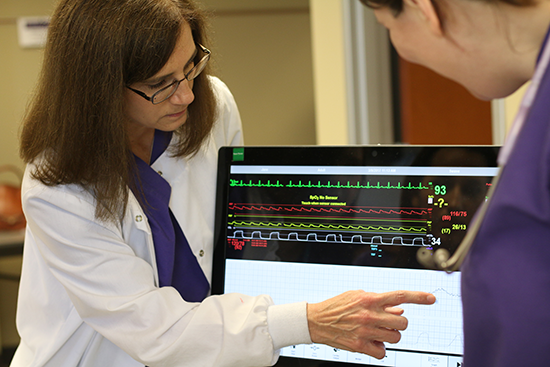 will expose you to diverse patient care settings such as medical, surgical, pediatrics, obstetrics, intensive care, and mental health. These experiences will help you determine which specialty area you would like to pursue in the future. As you explore diverse specialties, you can expect to work within some of the best healthcare institutions in Austin. This will give you the chance to demonstrate your skills and network with key employers, so it's important to view clinicals as a 16-month job interview.
2. If I want to become a nurse, why should I work toward a BSN?
If you're looking to stay in healthcare for good, then earning a bachelor of science in nursing (BSN) degree is a critical step to take. Working toward a BSN can provide many opportunities for you, including:
Career advancement
Leadership roles within healthcare
Personal enrichment
Specialization
Job security
Earning your BSN degree from Concordia's accelerated nursing track will allow you to develop the critical thinking, leadership, and communication skills needed in today's complex healthcare landscape. In fact, hospital professionals seek out BSN-prepared nurses because they bring these traits to the table. Studies have also found that hospitals with a higher percentage of nurses with baccalaureate degrees or higher have better patient outcomes.
3. Do I need to take prerequisites?
Yes, you will need to take prerequisite courses before enrolling in the ABSN track. Prior to working with an admissions counselor, you will need to have at least 35 college-level transferable credits. After that, you will need to complete Concordia's
nursing prerequisites
before diving into nursing-specific coursework. Concordia has CTX Distinctive prerequisites, which include Old Testament and New Testament, and a two credit leadership series that you can complete as corequisites. If you do not have a previous bachelor's degree, you must meet the requirements of the
Common Experience CORE courses.
4. What does a blended learning model consist of?
Concordia's blended learning model integrates
online coursework
, hands-on labs, and clinical practice at top hospitals in and around Austin.
Online coursework
brings a level of convenience to the learning process. It allows you to create your own schedule and learn core nursing concepts at any time of the day or night. This is especially helpful for ABSN students with children. Interactive activities and online discussion boards will train you to think critically, at your own pace. If you don't understand something, you can review course materials as many times as needed.
Hands-on labs
offer a realistic learning environment to showcase what you know without the risk or consequences of practicing on actual patients. Faculty will support you each step of the way and observe how well you apply nursing theory, reasoning, and practice in real-time clinical situations.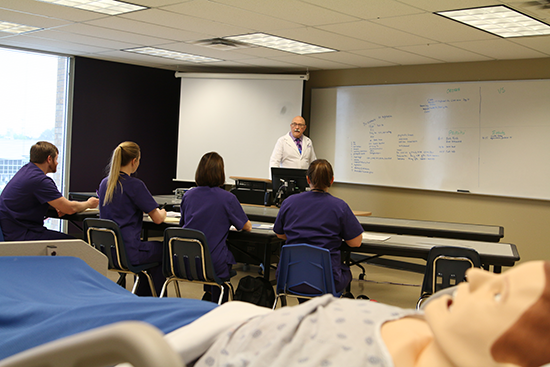 Clinical practice
goes hand-in-hand with online coursework and hands-on labs. As your online coursework builds, so do the clinical skills you perform. Clinicals will teach you how to meet the highest standards of patient care and train you to think critically and quick on your feet.
5. Will I have contact with my instructors?
Just because you're learning online doesn't mean you have to journey through online coursework alone. Interaction with your faculty and other students is a key aspect of the ABSN track. You will experience a high level of virtual interaction and collaboration with the learning management system (LMS), Blackboard. Your faculty want you to succeed and encourage you to reach out when you have questions. Whether you schedule time on their calendar, call, text, or email, they are there to help you reach your full potential. Due to the speed of the track, it's best to ask questions as soon as they arise so you don't fall behind. The accelerated track offers a lower student-teacher ratio so you can get the attention and support you need to reach your highest potential. Throughout your simulation labs and clinical rotations, you can expect to work alongside 8-10 students, giving you more individualized attention.
6. Is this an accredited program? How does that affect me?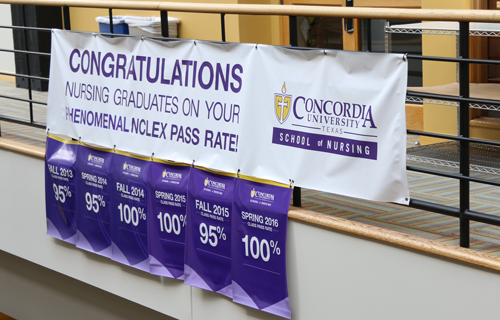 Yes, the BSN program is accredited at the national level, the program is approved at the state level, and the university is accredited at the regional level. Enrolling in an accredited nursing program is paramount because it ensures you are receiving a high-quality nursing education and are qualified to sit for the NCLEX-RN. Concordia University Texas meets the quality education standards set forth by the
Southern Association of Colleges and Schools Commission on Colleges
(SACSCOC). The mission of this regional accreditation body is to maintain the quality and effectiveness of its member institutions. Additionally, the nursing track is accredited by the Texas Board of Nursing; both the BSN and MSN programs are accredited by American Association of Colleges of Nursing. The College of Nursing meets the approval of the
Texas Board of Nursing
(BON), a state entity that provides approval for more than 200 nursing education programs. Established in 1909, the mission of the Texas BON is to protect the public from unsafe nursing practices. The baccalaureate degree in nursing and master's degree is accredited by the
Commission on Collegiate Nursing Education,
655 K Street, NW, Suite 750, Washington, DC 20001, 202-887-6791.
If you're ready to change careers and start a new future as a nurse,
contact us
, and find out more about Concordia University Texas's Accelerated Bachelor of Science in Nursing track.