What You Should Know About Online Nursing Programs in Texas
What should you know about online nursing programs in Texas? First, nursing programs can't be completed fully online. Rather, look for a program with a combination of online classes and in-person learning experiences. Choosing an accelerated BSN program in Texas like ours at CTX helps you earn your degree quickly.
If you are looking at online nursing programs in Texas, you might be wondering, "Can I get my RN degree online?" You should know that it is not possible to attain a nursing degree 100 percent online. But it is possible to enroll in a program that includes online coursework instead of the traditional university lecture format. And as with any nursing program, you will participate in hands-on labs and clinicals.
Why should you consider hybrid online nursing programs in Texas? Online/hands-on hybrid nursing tracks like the Accelerated Bachelor of Science in Nursing (ABSN) track at Concordia University Texas (CTX) can provide a quality nursing education more quickly. We also allow for a greater number of students each year by offering three start dates — in January, May, and August.
We'll dive into all the details of online nursing programs in Texas, so you'll know how they work and how to choose the right program for you.
How Do Online-Based ABSN Programs Work?
Traditional nursing programs use in-person lectures to teach foundational nursing topics. By moving much of the traditional in-class content to Concordia's online learning management system (LMS), CTX decreases the number of classrooms needed, thereby making room for more students. Delivering this content online also allows students to adjust when and where they study according to their preferences.
When online learning first began, little interactivity was available. Slow internet speeds and limited computer processing power made classes text-heavy and often boring. Today's quick internet and processor speeds mean that online courses can include more interesting multimedia elements.
At [email protected], our intuitive online courses are taught by many of the same distinguished faculty who teach our campus-based nursing degrees. In addition to assigned textbook readings, students complete nursing theory coursework online through an e-Learning platform that lets you:
Listen to, view, read, and interact with coursework materials.
Submit assignments.
Discuss coursework with other students using an online forum.
Stay organized using its calendar function.
Hybrid Curriculum: You can't become a nurse completely online.
Anyone who argues that you can't learn to become a nurse solely through online classes is right. Nursing requires not only learning concepts and skills but also putting them into practice. As a result, CTX has created a hybrid learning experience. In addition to its online learning component, this model includes skills and simulation labs as well as a variety of clinical rotations with area healthcare organizations.
Skills Labs
In skills labs, you will learn to take blood pressure, insert catheters, start IVs, place nasogastric tubes, and more. You will practice some of these skills on task trainers and full-body medical manikins, while you'll practice others, like vital signs and physical assessments, with classmates under the supervision of an instructor.
Simulation Labs
Simulation labs are designed to feel like a real-life healthcare environment without the fear of harming an actual patient. You will learn to complete basic examinations as well as care for patients with more complex needs.
Manikins in the simulation labs are more sophisticated than those used in skills labs. You will likely care for a manikin that breathes, blinks, talks, has heart sounds, and displays various other capabilities. They can even simulate symptoms and conditions you will be apt to encounter in a real healthcare setting.
As you practice with your manikin, your instructor will observe you through a two-way mirror. After each simulation lab, you will debrief with your classmates and instructor to learn how you can improve in the future.
Clinical Rotations
During your clinical rotations, you will work alongside experienced faculty to gain experience in various real-world healthcare settings. You'll experience diverse patient care settings, ranging from outpatient clinics to community health centers to hospitals. You will first observe nurses interacting with patients; then you will learn to care for those patients yourself.
Nursing specialties where you'll rotate can include:
Adult health
Mental health
Obstetrics
Pediatrics
Intensive care
Acute care
Long-term care
Additionally, clinicals expose you to — and allow you to network with — potential employers in the Austin and Dallas areas.
Why Choose an Online Nursing Program in Texas?
Becoming a nurse in Texas is an excellent decision for many reasons. Let's look specifically at the nursing employment outlook in the state of Texas.
Healthcare industry jobs are plentiful. In fact, according to the U.S. Bureau of Labor Statistics (BLS), Texas ranks second of all the states for employment of registered nurses. That means you'll likely have many job options after graduation.
Another benefit of pursuing nursing in Texas is the fact that it is a nurse compact state. This means that nurses earning licensure in Texas can work in any of the other nurse compact states using their license. This makes careers like travel nursing or telehealth nursing much simpler.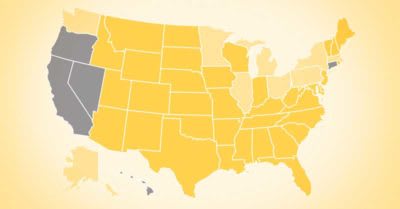 And let's not forget this benefit of pursuing an online nursing education in Texas: the BLS reports the state's annual average wage for a registered nurse in May 2021 was $79,120.
Living in Texas
Choosing Texas for your nursing education and career means you get to enjoy living in an incredible state with a rich culture, natural beauty, and family values.
Our ABSN track has locations in Dallas as well as Austin, and our students enjoy both of these vibrant cities.
A few of the cultural highlights of living in the bustling city of Austin are:
Texas State Capitol building.
Many parks and places to reconnect with nature, such as the McKinney Falls State Park.
Museums and history centers, including the Blanton Museum of Art.
Amazing cuisine, including Tex-Mex, Asian, European, and more.
Barton Springs Pool: a year-round natural swimming hole.
Dallas offers another flavor of Texas charm, and our students enjoy a range of local experiences, including:
Dallas Arboretum & Botanical Gardens.
Museums including the Dallas Museum of Art and the Perot Museum of Nature and Science.
Dallas World Aquarium.
World-class cuisine, including Tex-Mex, barbecue, and ethnic foods.
Dallas Zoo, home to more than 2,000 animals.
Now that you know the perks of choosing a nursing program in Texas, let's look at why you should consider the ABSN track at CTX.
If you are considering earning a BSN through an accredited online nursing program in Texas, good for you! Students nationwide are pursuing online paths in record numbers. In light of the recent pandemic, an even greater number of schools have begun offering some form of online learning.
However, it is important to note that just because a college or university offers an online program, does not mean that the program is of high quality. To create a quality program, the school must have expert knowledge in instructional design, as well as the tech support students need.
Fortunately, at CTX in Austin, TX, online learning is not new to us. Our ABSN track for non-nurses has included a blend of online coursework and hands-on labs and clinicals since its inception, making ours among the best online nursing programs in Texas.
What are the steps to become an RN? Here's the pathway to earning a BSN through an accelerated nursing program.
Let Your Nursing Journey Begin at CTX!
If you decide to pursue an online nursing program in Texas, you can earn a BSN from Concordia University Texas in as few as 16 months. That's because we take your previous education into account, allowing you to graduate sooner. If you have at least 60 non-nursing college credits or a non-nursing bachelor's degree, you may be eligible for the CTX ABSN track.
Now that you know about the rewards of pursuing an online nursing program in Texas, as well as the benefits of earning a BSN in as few as 16 months through [email protected], reach out to one of our admissions counselors today. They can answer any questions you might have and walk you through the application process.