Your Nursing School Guide – Part 2: Nursing School Goals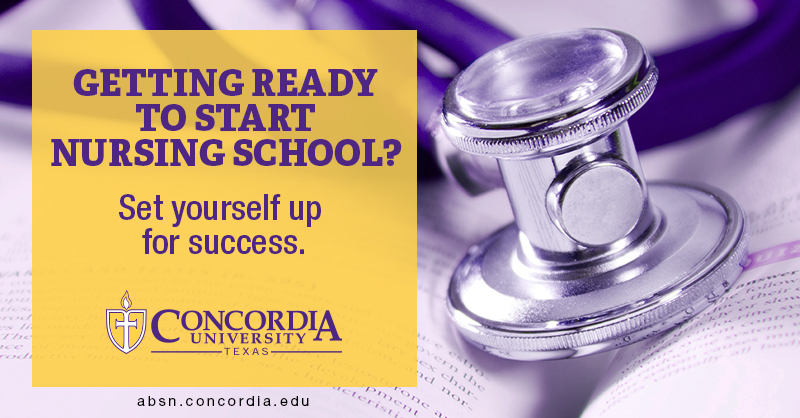 Congratulations on your decision to pursue a career in nursing. While you haven't started school yet, you should feel proud of yourself for making a commitment to become a registered nurse (RN). You have a challenging road in front of you, but it will be worth every minute when you graduate with a
Bachelor of Science in Nursing degree
. In part 1, we discussed goals to help you through applying to nursing school. Now, we're going to talk about nursing school goals to keep in mind once accepted into an accelerated nursing track. As with
part 1 of our nursing school guide
, we spoke to Concordia University Texas admissions counselor Kayla Clemons to get her expert advice.
Get Ready — Preparing to Start Nursing School
You'll soon find that there's a lot to do between applying for nursing school and starting classes. Here are six goals to keep you on track so you hit the ground running:
1. Fulfill all participation requirements.
While they may vary from school to school, pretty much every nursing school has certain requirements you must meet before you can begin classes, even if you've been tentatively accepted. For example, Concordia University Texas's nursing program requires all students to complete the following prior to beginning classes:
Background checks
Criminal background and drug screenings
CPR certification
Immunizations (and other health requirements)
In addition, review the clinical compliance details carefully. While your admissions counselor and others from the school will provide you with details, ultimately it is your responsibility to meet the requirements and provide documentation to the school. According to Kayla, one of our dedicated admissions counselors, the two requirements she sees most often overlooked are CPR certification and taking the tuberculosis (TB) test. So you don't miss anything, we recommend making a list of
nursing school requirements
and checking off each once completed.
2. Follow up on any loose ends.
Once accepted into a nursing program, you'll want to shore up your
financial aid
as soon as possible, and
at least
a week before classes start. Also, if you were waiting to be accepted into the degree track before signing a lease, now's the time. Keep in mind that housing often goes quick in a market like Austin, Texas — don't wait any longer than you have to! Along with signing your lease, make any moving arrangements well in advance. And if you're relying on the help of friends, be sure to remind them when you'll be moving (and that they offered to help). Additionally, if you have children, now is definitely the time to finalize the childcare arrangements you started considering when researching nursing schools.
3. Set up a calendar.
If your schedule isn't busy now, it will be. Use this time to prepare by creating a calendar; whether that's a physical calendar/book you will carry with you or something like Google Calendar. This way, you won't ever forget classes, clinicals, labs, and tests. If using Google Calendar or the like, consider sharing your school schedule with your spouse and family members.
4. Stock up.
With the Concordia ABSN track, you'll travel to campus two to three times a week, so be sure your book bag or backpack is practical for the number of books and other items you'll be carrying with you. Many students find a bag with rollers makes it easier to manage the number of books they carry. And speaking of books, it's also a good idea to have all of your textbooks and supplementary materials prior to the start of classes. This way you don't risk falling behind when assigned reading on day one. You'll also want stock up on basic school supplies, like pens, notepads, printer paper (assuming you have a printer), etc., as well as program-specific supplies, such as scrubs and comfortable shoes. Consult your advisor for details on choosing the right scrubs and other supplies, as you may be required to order your scrubs through the school.
5. Get organized.
Whether you're completing learning modules, participating in group discussions and forums, or preparing for learning assessments, you're going to spend a lot of time at home devoted to your nursing studies. To maximize productivity,
create a space for schoolwork
. While individual preferences vary, the space you set up should be quiet, comfortable, and free of distractions. It also helps to have shelf or drawer space for books, papers, documents, etc.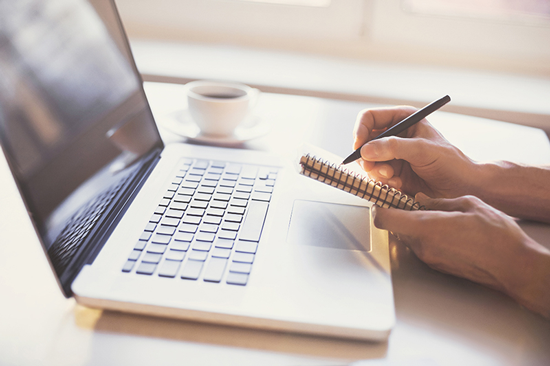 Of course, getting organized doesn't apply solely to the physical world. You can benefit from organizing your digital space, too. For example, you might consider creating a folder structure for storing class assignments, as well as following a consistent file-naming convention, to make digital files easier to find and identify later on. Additionally, it can be immensely helpful to sort your emails into folders for easy call-up later. There are also a number of apps that can help you stay organized, such as
Evernote
, which allows you to sync and access your notes from your desktop and mobile devices.
6. Scope it out.
Whether you'll be attending all of your classes or just your labs on a campus (in the case of a hybrid online program), it's a good idea to scope out where you need to go prior to day one.  This may seem a bit silly, but will help ensure you're on time (as well as prevent potential embarrassment when you walk into the wrong room on day one). Get a feel for how long it takes to get there, where to park, how long it takes to get from your car to the classroom, and so on. If you plan to ride public or campus transportation, find out what route you'll be taking and what times it picks up and drops off. It also doesn't hurt to use a map app to get an idea of approximate travel times during peak traffic. Punctuality is particularly important with regard to your clinicals — not only will arriving late leave a poor impression, if students are late too many times, it's considered a fail. Additionally, if your degree track has an online component, become familiar with the learning management system and any other online tools you'll be using (for example, discussion boards) as soon as you have access.
Achieve Your Dream — Surviving Nursing School
Finally, the moment you've been waiting for is here, and you're probably a bit, well, nervous. It's understandable. To help you do your best, here are six nursing school goals to keep you on the path to success once classes start:
1. Take care of yourself.
This is probably not the first goal you expected to read, and that's precisely why it's #1. No one said nursing school would be easy. Understanding the demands of nursing school will help you prepare for a career in nursing, where long hours and stress can lead to burn out and caregiver fatigue. As a nursing student, there are going to be times when you feel stressed. That's a given. However, there are things you can do to cope with stress. One of the best stress relievers is
exercise
. Research indicates that exercising for just 30 minutes, three to five times a week, can lead to a better mood, increased energy, improved sleep, and reduced stress — not to mention a whole host of other health benefits. There's even evidence to suggest that
exercise leads to improved memory
. And don't underestimate the benefits of
eating healthy
. Often, the foods we gravitate toward when we're stressed are just the foods that will further contribute to our stress. Instead of eating sugary, high-fat foods, opt for fruits and vegetables, and foods rich in fiber and complex carbohydrates. Also, watch your caffeine intake. A little goes a long way. In fact, too much can lead to increased stress, problems sleeping, and even serious cardiac events. Speaking of, make sure you're getting
enough sleep
. The average adult (ages 26–64) should get around seven to nine hours of sleep a night. Not only will you feel more awake, you'll think clearer and be less prone to stress. Finally, make time for family and friends, and most of all, yourself. Sometimes the best thing can be to take a break to recharge.
2. Stay organized.
We already discussed getting organized, but it's worth mentioning that your space won't stay organized unless you commit to maintaining organization. We've all cleaned a room or created an organization system only to become messy and disorganized shortly after. Organization is an ongoing commitment. It's much easier to stay organized if you're proactive. Instead of flagging an email to be sorted later, do it as soon as you've finished reading it. Along those same lines, that calendar you bought or set up won't do you any good if you don't update it regularly. Entering every deadline, exam, clinical date, etc., will help you avoid missing an important date. (And if you're one of those people who is always frantically rushing out the door, you might consider padding your times.) There's also a lot of value in writing out
daily to-do lists
. Just be sure to prioritize your list so that what absolutely must happen today is at the top of the list and what is less important is at the bottom.
3. Develop a routine.
Consistency is key to developing habits. Create a schedule for your day, setting specific times to study, workout, spend time with family, etc. For example, rather than just cramming for a test, make time to study each day. You'll be surprised at how much better you remember the material than had you waited until a few days before a big test to start studying.
4. Talk to your professors.
Developing an open line of communication with your professors is big. Take advantage of your professor's office hours to talk through questions you have, and make it a point to meet with all of your professors (outside of the classroom or lab setting) at least once. Remember, they are there for you and want you to succeed.
5. Find an accountability buddy.
There's no reason to feel alone in your nursing school journey. As a nurse, you'll work in close partnership with doctors, technicians, and nurses, among others, so it would only make sense that you take a teamwork approach to nursing school. Find a classmate you get along with (who is responsible), and meet up
at least
once each week. Use this time to compare and review notes, study, and check in on each other's progress toward assignment due dates.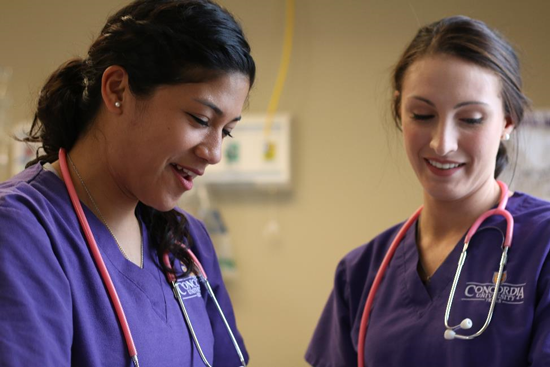 6. Be thinking about the NCLEX-RN®.
Taking the National Council Licensure Examination (NCLEX) is the final step toward becoming a registered nurse (RN), and while you can't take it until after you graduate, it's good to start preparing well in advance. There are a number of resources available online to help you get ready, and any good nursing program should help you prepare. For example, in 2017,
100% of Concordia Texas BSN graduates
passed the NCLEX. Nursing school is not going to be easy, but as the old adage goes, "Nothing good in life comes easy." By working hard and keeping sight of your end goal of becoming a nurse,
you will succeed
.
Earn Your Nursing Degree Faster with Our Accelerated BSN Track
If you're considering a career in nursing and have a minimum of 60 college credits or a non-nursing degree, Concordia University Texas' ABSN track may be right for you. Located in Austin, Texas, our Accelerated BSN track allows you to earn a nursing degree in as few as 16 months upon successful completion of prerequisites.
Fill out our contact form
or call to talk to an admissions counselor.