Your Nursing School Guide – Part 1: Applying to Nursing School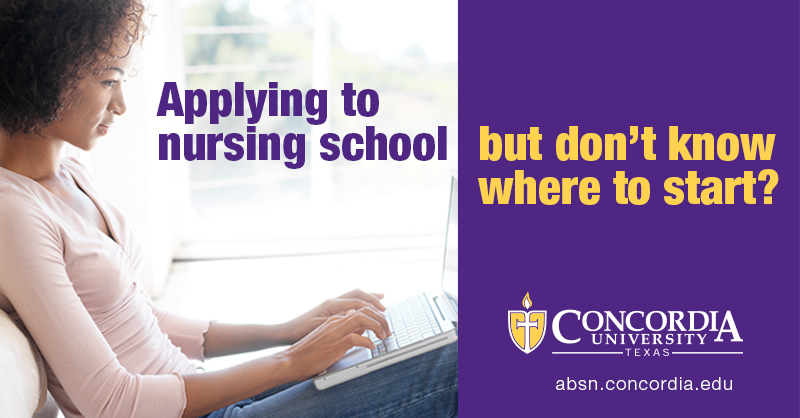 You could not have picked a better time to go back to school to become a registered nurse (RN). As a result of a decades-old nursing shortage and an aging Baby Boomer population, nurses are in high demand and will continue to be for many years.
So now what?
We talked to Kayla Clemons, an admissions counselor for
Concordia University Texas' Accelerated BSN track
, to help us create a nursing school guide. From choosing the right program to sitting for the NCLEX, we have you covered. In this installment, we will be discussing goals for finding and applying to nursing school. In part two, we'll talk about
nursing school goals
for success once accepted into the ABSN track.
Find Your Fit — Choosing the Right Nursing Program for You
Your nursing journey begins with picking the school and degree track that best fits your needs. To help make your decision easier, here are five goals to keep in mind when choosing a nursing program:
1. Uncover your why.
Before doing anything, take a step back and consider why you want to be a nurse. Knowing what inspired you to want to become a nurse and where you want to go with your nursing career are useful in helping you choose the right program. This is also a good time to consider whether you intend to go to school full-time or are willing to relocate.
2. Weigh your options.
Once you've given thought to your why, it's time to research programs. There are two main degree tracks to becoming an RN: Associate of Science in Nursing (ASN) and Bachelor of Science in Nursing (BSN) degrees. However, it must be noted that the overwhelming trend in healthcare is toward BSN degrees, and more and more providers are requiring their ASN nurses to go back to school to get their BSNs. In other words, a BSN opens more doors for your career — and means you won't likely find yourself back in school in five or 10 years. Within the BSN pathway, there are traditional, four-year BSN tracks, like Concordia's traditional track, and accelerated BSN tracks, like Concordia's Accelerated BSN track, which allows students to earn a BSN in as few as 16 months upon successful completion of prerequisites. Which you choose depends on a number of factors; though, generally speaking:
If you do not have college experience, a traditional four-year program is for you.
If you have a non-nursing degree or at least some college credits (determined by the school), you may be eligible for an accelerated program, depending on your GPA. For example, to be considered for CTX's ABSN track, you must have at least 60 college credits and a minimum GPA of 3.0.
One other thing to keep in mind when researching a program is accreditation. In order to use your degree toward a future degree at an accredited school — because, say, you decide to pursue a master's degree later on — the BSN track you select
must be accredited
.
3. Be realistic about what you can do.
Let's get this out of the way now: regardless of the track you choose, nursing school is not easy. Don't make it more difficult on yourself by committing to a plan you can't keep. Ambition will get you far in life; however, it is possible to be too ambitious. Before you invest time, money, and energy, be honest with yourself about how much time you can realistically devote. For this reason, at Concordia University Texas (CTX), we strongly discourage working while enrolled in our ABSN track. (Keep in mind that clinicals often require a commitment of 20 hours a week – meaning that not only is working outside of school going to be difficult, it will likely have a negative impact on your grades.) "Some students have very busy or hectic home lives, some students would like to carry a job, etc.," says Kayla. "But the truth of the matter is it's hard to pile anything on top of nursing school."
4. Get your family on board.
Ask any nurse about his or her nursing school experience and one thing you're going to hear often is that family support is critical. Before applying to nursing school, talk to your family. Be up front about the fact that you will not have as much time for them during the program (though you will likely come to rely on them more). If you have kids, now is the time to be thinking about childcare needs. While you don't need to have a set plan just yet, you will want to have one well in advance of day one, so it's best to start talking about it now.
5. Talk to an admissions counselor.
To be certain a program is right for you prior to applying to nursing school, you have to talk to an admissions counselor. This is as much for you as it is for the school, so come prepared. You want to know that the program is right for you, and the school wants to know that you are a good candidate. Your admissions counselor will help determine your eligibility and identify any prerequisite courses you will need to take. He or she will also be able to provide you guidance on what, if anything, you can do to improve your existing GPA, as well as alert you to any possible issues. Throughout the process of application and enrollment, your admissions counselor will be there to guide you, so be sure to establish a good rapport.
Preparing for Your Admissions Call
Do your homework. Learn as much about the program and school as you can prior to your call. This way you ask thoughtful questions rather than about information that is easy to find. As Kayla says, "It looks really good to the school you are applying for to see that you have already done your research and are not asking questions that can be answered through the website."
Have your transcripts ready. These can be unofficial transcripts. What's important is that you can use them to talk over your GPA and existing course history.
Be prepared to answer questions. Think of your admissions call as an interview. In this 20–30 minute call, you can expect to be asked questions like: Why do you want to be a nurse? What do nurses do that inspires you? What is your schedule going to be like during nursing school?
Know your background. Something Kayla can't stress enough is honesty and openness. "If you have a negative mark in your background history, let a class slip in a previous nursing program, or have grades from a school that you wish could just disappear from your transcript, you need to let your counselor know," she says. "When you go to apply, your full education history will be pulled (yes, that's every school you've ever been to post-high school) as well as a complete background check completed. Rather than having it hold you back by the time you've already started applying, you should instead consider being upfront with your counselor so that they can discuss with you ways to steer the scenario to ensure your success!"
Take Action — Applying to Nursing School
Now that you've found the school that's right for you, it's time to apply.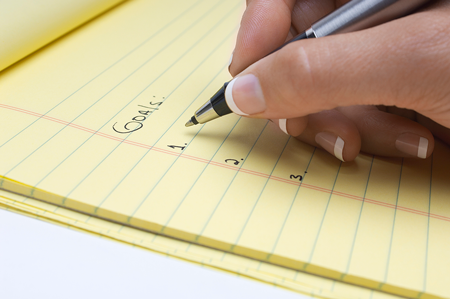 As you work through the application process with your admissions counselor, here are six goals you'll want to keep in mind:
1. Stay on top of communications and keep detailed notes.
Answering phone calls and emails sounds easy enough, right? You might be surprised at how often people overlook the importance of basic communication skills. "There are a lot of steps that need to be taken before starting class," Kayla says. "It is pertinent that you stay on top of your game and stay in contact with your counselor." Along with responsiveness comes organization. While your admissions counselor will likely email you a reminder of the details discussed in your conversations, it is always a best practice to take notes. Writing things down helps you to remember them. Speaking of, it's also helpful to put important dates on your calendar, and to set reminders in your phone. This way you don't miss any important admissions steps.
2. Write a great essay.
Putting your passion for nursing into writing may seem daunting, but you've got this! You've already uncovered your why, and you've likely already talked about your why in your admissions call. The best approach is to just start writing about your passion for nursing as if you're having a conversation. Don't worry too much about how it sounds just yet. At this point, you just want to get your thoughts down in writing. After you've finished your first draft, then you can worry about cleaning it up. And whatever you do, do not send your essay without having a friend or family member (or two) read over it. Just be clear that you really want their honest feedback — the good
and
the bad. It won't help you if the person reading over your essay won't be honest with you if he or she doesn't like or understand what you wrote.
3. Secure recommendations.
Many nursing programs require recommendations as part of the application process. Don't wait to reach out to prospective references. Talk to them in advance, and be sure to let them know when recommendations are due. The more time you give your references, the more time they have to write you stellar recommendations. (It also might not hurt to fib a little about when they need to have it done to make sure they meet the deadline.)
4. Develop a financial plan.
It's very likely you'll need to take out student loans to cover the cost of school, living expenses, and so on. To ensure you get financial aid when you need it, fill out your Free Application for Federal Student Aid (
FAFSA
®) as soon as possible, and definitely by the time you start applying for schools. This is the first step in determining eligibility to receive student loans. (And don't forget that you will need to fill out the FAFSA every year you're in school/receiving financial aid.) As a part of this process, take a look at your finances and consider how much money you're going to need. It doesn't hurt to talk to your admissions counselor, either. An admissions counselor may not be able to answer all of your financial aid questions, but he or she will be happy to put you in touch with someone who can.
5. If planning to relocate, start looking now!
Finding a place to live — especially in a rapidly growing city like Austin, Texas — can be challenging to say the least. Don't wait until the last minute. Kayla recommends finding housing as soon as possible, adding that your admissions counselor can help you with the process.
6. Take the Test of Essential Academic Skills (TEAS).
Most BSN tracks require applicants to take the TEAS test before they can be admitted. CTX requires applicants to have taken the TEAS VI within one year of starting its ABSN track, though it may vary for other schools. For tips on preparing for the TEAS, see our post,
Free TEAS Practice Tests to Help You Ace Your Application
. Hopefully you find these goals helpful to you in applying to nursing school. In part 2, we'll cover what to do once you've been accepted, as well as goals for succeeding in nursing school.
Earn Your BSN in as Few as 16 Months at Concordia University Texas
We want to help you achieve your dream of becoming a nurse. To
learn more
about how Concordia University Texas can help you turn your existing college credits or non-nursing degree into a BSN degree in as few as 16 months upon successful completion of prerequisites, give us a call.