Making the Career Change to Nursing
Making the career change to nursing is a smart decision. You'll be entering an in-demand field with opportunity and competitive pay. By choosing an accelerated BSN track, you can graduate in as few as 16 months and transition to nursing as a second career in less time.
Are you considering nursing as a second career? Going back to school to become a nurse is an excellent decision, as nursing offers you the chance to make a real difference in people's lives every day. You'll have the opportunity to be actively involved in your patients' care daily.
It's never too late to make the career change to nursing, especially with the Accelerated Bachelor of Science in Nursing (ABSN) track at Concordia University Texas (CTX). Our 16-month ABSN track leverages your prior non-nursing bachelor's degree or college credits to help you graduate sooner.
We'll discuss why changing careers to nursing is such an excellent decision, and then we'll walk through the steps for how to become a nurse in your second career.
Benefits of a Nursing as a Second Career
Going back to school for nursing has become common as people turn to nursing to get out of an unfulfilling career and enter a career where they can make a real difference. Nursing is not just another job but rather a field where professional and personal benefits abound.
Here are a few of the reasons why you should consider making the career change to nursing:
Nursing is a growing field with high job security and abundant opportunities.
Nurses make a competitive salary, averaging $77,600 in the U.S., according to U.S. Bureau of Labor Statistics (BLS) May 2021 data.
Nurses experience variety in the workplace, where no two days are the same.
Nurses can choose to work in diverse specialties and facilities based on their preferred interests.
Nurses can develop their careers by seeking higher education or leadership positions.
With an accelerated ABSN track, you can quickly become a nurse in as few as 16 months.
How to Make the Career Change to Nursing in 8 Steps
If you're interested in changing careers to nursing, here is the pathway that will lead you to your new dream job. Remember that it's never too late to start a new career, and the rewards of becoming a nurse will make the hard work worthwhile.
1. Research Accelerated Nursing Programs
The first step to becoming a nurse is researching your program options and finding the right one for you. While it's possible to become a registered nurse with an associate degree, a bachelor's degree is the preferred pathway for most students. That's because having a Bachelor of Science in Nursing (BSN) degree gives access to more job opportunities, provides a higher salary, and allows for greater career growth.
When you're considering nursing programs, you can opt for either a traditional or accelerated format. If you don't have prior college experience, a traditional four-year nursing program will be ideal. However, if you have already earned a non-nursing bachelor's degree or have at least 60 non-nursing college credits from a regionally accredited college or university, an ABSN track will help you save time.
The ABSN track at Concordia University Texas leverages your prior college credits to help you graduate in as few as 16 months. If nursing is your second career, you likely want to start as soon as possible, and an accelerated program helps you do just that.
2. Talk with an Admissions Counselor
Once you find the program that resonates with your goals and educational background, it's time to reach out to an admissions counselor to learn more. At CTX, our admissions counselors are committed to helping you with every step of the admissions process.
Your counselor will schedule a time to talk with you over the phone about your fit for the ABSN track. They will review your transcript and support you in forming a plan for completing any necessary admissions requirements or prerequisites. You'll work together to decide on a goal start date for nursing school.
3. Finish Prerequisites and Admissions Requirements
Once you've formed a plan with your admissions counselor, you may need to take some time to complete prerequisite courses. You can take these courses through CTX or another accredited institution. Make sure to check with your admissions counselor about transferability before registering for classes at another school.
You may also need to meet other admissions requirements, such as improving your overall GPA or passing the Test of Essential Academic Skills (TEAS VI) with a score of at least 67% or higher.
4. Apply for Nursing School
Once you are in your final semester of prerequisite courses, you can submit your application for the ABSN track at CTX. Your admissions counselor will be available to walk you through this process. The application consists of an online component plus supplemental documents, including your official college transcript. Remember to submit your completed application before the deadline.
Applications are reviewed on a rolling basis, so you'll hear back with our admissions decision a few weeks after you submit your application.
5. Graduate and Earn Your BSN
Once you're enrolled in the ABSN track, the hard work begins. You'll need to dedicate the next 16 months to your studies. We advise that you consider nursing school like a full-time job, so expect to spend more than 40 hours each week studying and completing in-person activities.
The ABSN track uses a hybrid approach, which consists of:
Online classes: You will use our intuitive e-learning platform to learn foundational nursing concepts at the best time and place for you.
Skills and simulation labs: In these in-person labs, you'll practice technical nursing skills in an environment where you can practice responding to various healthcare scenarios.
Clinical rotations: In-person clinics at local healthcare facilities let you apply what you've learned to a variety of real-world patient care settings.
What is nursing school like? Here's your guide to the ABSN track at Concordia University Texas.
6. Pass the NCLEX
After finishing nursing school and earning your BSN, you'll need to jump one more academic hurdle before earning your nursing license. The National Council Licensure Exam (NCLEX) is a rigorous exam that covers the entire nursing curriculum. You'll need to learn to identify the best answer even when given a choice between multiple valid answers.
Preparation for the NCLEX begins on the first day of nursing school, but you'll start spending additional time studying for the exam during your final semester of the ABSN track. Then after graduation, give yourself a few weeks to devote entirely to studying for the exam so you have enough time to prepare thoroughly.
7. Get Your Nursing License
The final step in starting nursing as a second career is to receive your license. Make sure you get licensed in the state where you plan to practice as a nurse. Check with your state's board of nursing for any specific requirements for RNs in your state. All states require you to pass the NCLEX, so once that's complete, you're on track to receive your RN license.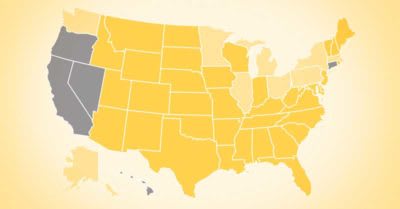 8. Start Your First Nursing Job
Now that you have a BSN and an RN license in hand, you're ready to begin working as a professional nurse. We hope your second career is all you have ever dreamed of and more.
Start the Career Change to Nursing at CTX
Now that you see how attainable it is to pursue nursing as a second career, it's time to get the ball rolling. At CTX in Austin and Dallas, Texas, we're committed to helping you transition smoothly to your nursing career.
To learn more about the ABSN track and how to take the next step, reach out to our admissions counselors today. We'll be here to guide you on the path to changing careers to nursing!