Nursing School Tips for Each Step of Your ABSN Application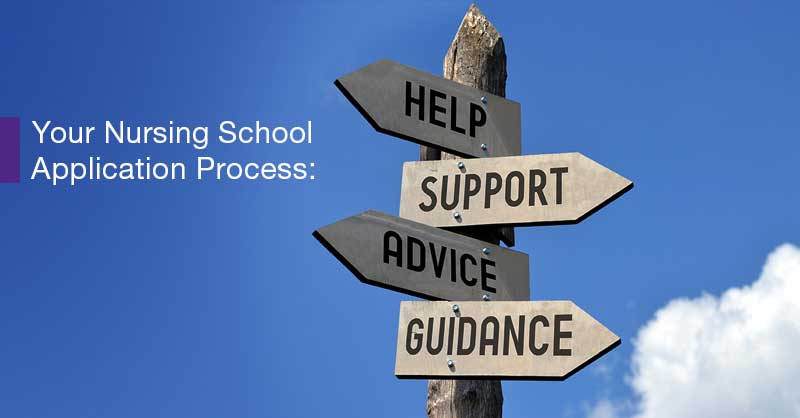 The nursing school application process is complex and requires much time and effort.  With the right nursing school tips, however, you can complete your application with ease and confidence. So, where do you begin? First, you will want to find a nursing program that is clear about the application process and committed to your success from the start. This is where Concordia University Texas's
Accelerated Bachelor of Science in Nursing
(ABSN) track outshines most. As you begin the ABSN admissions process, you will be paired with a trusted admissions counselor. This person will work one-on-one with you to help you navigate each step of the process. They can be thought of as a strategy consultant, coach and cheerleader all rolled into one. Here are some of the nursing school tips they have to offer.
Step 1: Schedule your interview with an admissions counselor.
Scheduling your preliminary interview through our ABSN website is easy. You can either connect with us via the chat feature or submit your contact information via a form. Shortly after submitting your information, one of our admissions counselors will give you a call, so make sure you provide a relevant phone number. Your first admissions appointment will be a very casual conversation. Your assigned admissions counselor will go over how the ABSN track works, answer any questions you have and provide you with information on next steps. At any given time, your counselor may ask you the following questions:
What motivated you to become a nurse?
What qualities attracted you to our ABSN track?
How are you planning to manage your time throughout nursing school?
Tip #1: Have your questions prepared.
Applying to nursing school
is a big decision that shouldn't be taken lightly, especially when considering an Accelerated BSN track, like ours. Before speaking with an admissions counselor, you will want to learn more about the curriculum, so you know exactly what you're getting into.
"It benefits the student to spend a good amount of time reviewing the ABSN website because many of their general questions can be answered there," says Gary Dingus, ABSN Admissions Counselor.
As you gain more information about how the ABSN track works, you will want to collect your questions for your admissions counselor. This can help guide the conversation a little better.
Tip #2: Have access to your transcripts.
Before scheduling your interview, you will want to have access to your transcripts. Keep in mind that there will be no expiration date on your science prerequisites. "Admissions counselors will go over standard expectations no matter what," says Gary. "The information can be much more personalized if they can get an idea of educational history."
Tip #3: Be upfront and honest.
Your answers to the questions above help your counselor get to know you and determine if the ABSN track is a good fit for you. Everything your counselor does or says has your best interest in mind, so you will want to be transparent and honest with them. For example, if you're a single parent applying to the ABSN track, you will want to let your counselor know the kind of support system you will have throughout nursing school.
Step 2: Determine your eligibility for the ABSN track.
Before you can get started on your application, you will need to have a minimum of 35 non-nursing credit hours. Upon meeting these requirements, your admissions counselor will want to hear more about your academic history and motivation for wishing to pursue the ABSN track. Your admissions counselor doesn't want to see you through the admissions process if it's not a good fit for you. If it is, they will confirm your program eligibility (which includes 60 college credits or a non-nursing bachelor's degree and a 3.0 GPA) and do everything in their power to ensure you have or are working towards all the requirements to apply.
Tip: Take everything into consideration.
An excellent way to determine if the ABSN track is right for you is to consider everything. Evaluate your time along with your nursing career goals. Do you have time to commit 40+ hours a week to a rigorous curriculum consisting of online coursework, hands-on labs and, in-hospital clinical rotations? Do your nursing career goals relate to earning a Bachelor of Science in Nursing (BSN)?
Step 3: Submit your application and official academic transcripts.
Then, within the online application, you will need to submit a personal essay, three recommendation letters from personal sources and, a completion plan stating when and where you will be completing your remaining prerequisite courses. "Students should plan to complete no more than two of the remaining prerequisites outside of Concordia," says Gary. Your application will then be reviewed by your admissions counselor shortly after submission.
Tip: Don't waste any time.
As you can see, there are a lot of requirements to fulfill within the application, so you will want to get to work right away. To get ahead of the curve you can start outlining your admissions essay and secure your recommendations.
"Beyond the standard requirements, a student's ability to get admission steps completed in a timely fashion also has a bearing on their eligibility," says Gary.
Step 4: Successfully complete any requirements or prerequisite courses needed.
Just because you've reached the last step of the application process doesn't mean less work. In fact, this is where most of your workload will occur. After completing your application, you may be admitted into the track (depending on completion of step three). However, your admittance into the ABSN track will be conditional until all
requirements
and prerequisites are complete. During this step, your admissions counselor will help you plot out an academic plan. This involves figuring out which prerequisite courses you will need to take and when you can begin the ABSN track (January, May, or August). Once you've accomplished all requirements and prerequisites, you will then be required to take the Test of Essential Academic Skills (TEAS) test within one year of beginning the ABSN track. You will only have two attempts at this, so make sure you take it seriously. Other requirements include:
American Heart Association CPR certification from the "Basic Life Support for Healthcare Providers" course
Criminal background screening
Drug screening
Certified background checks for both the University and the Texas Board of Nursing
Satisfactory completion of all immunizations and health participation requirements through Castle Branch
Tip #1: Stay focused while completing your prerequisites.
Instead of worrying about future requirements and ABSN responsibilities, stay focused on the prerequisite courses at hand. These courses establish the foundation for everything you do as a registered nurse. They present our mission and vision and help you feel comfortable and confident with basic nursing skills before embarking on your 16-month journey.
Tip #2: Remain in contact with your admissions counselor.
As you complete your nursing prerequisites, your counselor will check in with you every other week to see how things are going. This will inspire you to stay on track with your courses and help you build trust with your admissions counselor. Your nursing school application will undoubtedly challenge you, but having the right nursing school tips and support from your admissions counselor can help alleviate the process.
Contact us
today to learn more about how Concordia University Texas can help accelerate your nursing career.