What Is a Travel Nurse, and How Can You Become One?
What is a travel nurse? Travel nurses are skilled nurses who fill short-term positions at healthcare facilities. They can travel within the U.S. or internationally with contracts ranging from a few weeks to months. To become a travel nurse, the first step is earning a BSN through an accelerated program.
Travel nursing has received a great deal of attention lately. What is a travel nurse, and what does a travel nurse do? We'll delve into all the details of this nursing role and explore how to become a travel nurse if you're starting from a non-nursing background.
At Concordia University Texas, we educate students to the highest nursing standards so that after graduating from the 16-month Accelerated Bachelor of Science in Nursing (ABSN) track, they can enter the field as practice-ready nurses. With the accelerated track, students can earn their education quickly and go on to pursue their desired specialty, such as travel nursing.
We'll cover all the key information you'll need to know before jumping into a career as a travel nurse. We'll explore what is a travel nurse, the role of travel nurses, top travel nursing specialties, and how to become a travel nurse.
What Does a Travel Nurse Do?
Travel nurses work alongside staff nurses at healthcare facilities to fill in during nursing shortages. A shortage can be caused by nurses going on maternity leave, retiring, or moving or by a hospital having an above-average number of patients.
Travel nurses work short-term assignments, generally ranging from eight weeks to a few months. You can find travel nursing opportunities within the United States and internationally. Healthcare employers do not hire travel nurses directly; rather, employers contract with travel nursing agencies, who manage travel nurses' employment from one hospital to the next.
Travel nurses have a similar job description as permanent nurses, managing patient care and treatment. They have a short onboarding process, so it's best to already have experience in your specialty so you can jump right into your assignment.
Travel Nursing Specialties
If you aspire to become a travel nurse, it's best to specialize before applying. While a generalist nurse may be able to find a travel job, you will have far more opportunities and better compensation if you are experienced in a high-demand specialty.
A few options for travel nursing specialties include:
Critical care/ICU nursing
Emergency nursing
Neonatal intensive care (NICU) nursing
Labor and delivery nursing
Surgical nursing
How to Become a Travel Nurse in 7 Steps
The process of how to become a travel nurse is fairly straightforward. No matter your background, you can become a travel nurse in a few years if you take the accelerated track.
1. Earn a BSN
The first step of how to become a travel nurse is earning a BSN. This is the standard nursing degree traditionally earned during a four-year undergraduate program. However, if you already have at least 60 non-nursing college credits or a non-nursing bachelor's degree, you may be eligible to fast-track your BSN through an accelerated track like the ABSN at Concordia Texas.
The ABSN track uses three components to educate students both online and in-person:
Online courses: Learn at the time and place that works best for you using an interactive, flexible online learning system. Students benefit from the structure of deadlines and exams and from continuous instructor support.
Skills and simulation labs: Develop hands-on nursing skills and become comfortable with a wide variety of mock clinical scenarios in small groups with instructor guidance. Nursing labs take place in person at the ABSN sites in Austin and Dallas.
Clinical placements: Apply your education to the real world through clinical rotations at leading healthcare facilities in Austin and Dallas.
The ABSN track at CTX offers three start dates each year — January, May, and August — meaning you can optimize your time by starting sooner. The curriculum is 16 months long, so before you know it, you'll be ready to start a rewarding nursing career.
2. Pass the NCLEX and Receive Your Nursing License
Once you've made it through nursing school, the next step is applying for your license and passing the National Council Licensure Examination for Registered Nurses (NCLEX-RN). This exam is the culmination of all you've studied in nursing school, and it is a challenging test that takes significant preparation. Early in your nursing education at CTX, you'll begin practicing with NCLEX-style questions on class exams. In the final semester of nursing school, students begin studying more intensely. They then take a month or two after graduation to focus on studying.
Once you successfully pass the exam, you'll receive your nursing license — now you can care for patients as a registered nurse!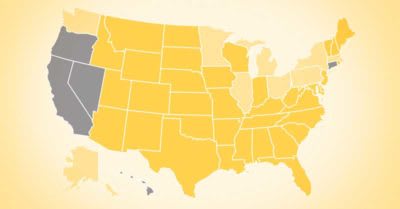 3. Gain Experience in Your Specialty
Now it's time to start working as a nurse. All the hard work of nursing school is over, and you get to enjoy the career you've built for yourself. Even though you eventually want to become a travel nurse, it's vital that you first gain experience at home. Travel nursing agencies want to hire qualified nurses with ample experience, as you'll need to be able to jump quickly into new roles with little time for orientation.
Therefore, most travel nursing agencies want nurses with at least two years of experience in their specialty. So use this time at your home healthcare facility to hone your skills, make connections, and truly master your specialty so you'll be ready to take your expertise on the road.
4. Reach Out to a Travel Nursing Agency
The next step of how to become a travel nurse is to inquire with travel nursing agencies. To be eligible for competitive travel nursing positions, you'll need:
A BSN degree
An active RN license
At least two years of experience in your specialty
Once you have this experience, you're ready to start looking for job openings. Travel nursing agencies have contracts with different hospitals, so be sure to research the positions and locations available at each agency.
Talk with travel nurses at your current hospital and join online forums for travel nurses to get honest reviews of each agency and find the best fit. Then, once you've narrowed down your top few options, contact an agency.
The travel nursing recruiter will take it from there. They'll contact you and help with the entire hiring process. A good travel nurse is a valuable commodity, so your recruiter should be helpful and accommodating.
Expect to provide the following to the travel nursing agency:
Resume
References
Skills test
5. Indicate Your Preferred Job Openings
You'll be able to indicate which types of jobs you are most interested in, and the recruiter will provide you with more information about available positions, including information about:
Contract length
Compensation
Housing stipend
Travel reimbursement
You'll narrow down your top options, and the recruiter will submit your application for these openings. The application process is fairly simple on your end, as the recruiter does most of the heavy lifting.
6. Interview with Prospective Employer
If a healthcare employer is interested in having you fill their assignment, they'll set up a phone or video interview.
Once your interview is complete and you've received an employer's approval, you'll complete a few final steps:
Paperwork
Physical examination
TB and drug test
Note that once you've completed these steps with your first travel nursing assignment, you won't have to repeat them for future roles if you use the same agency. The process is much simpler once the recruiter has your application on file.
7. Begin Your Travel Nursing Assignment
Once you've been approved for a travel nursing job, you're officially a travel nurse. You're ready to head out on your adventure of nursing in a new city and to reap the benefits of excellent compensation, plus perks like travel and housing stipends.
Once you're settled into your first assignment, you can reach out to your recruiter and indicate where you'd like to travel next or let them know if you'd like to request an extension at your current site. Many nurses work with a few agencies, so feel free to apply with another agency next time. Then, with a completed application at multiple companies, you'll have more job options to consider.
Pros and Cons of Travel Nursing
Now that you know how travel nursing works, how do you know if it's the best option for you? There are some key considerations to keep in mind.
Pros
Below are a few of the many advantages of travel nursing:
Ability to travel and explore the country and world
Great for a flexible lifestyle
Excellent experience for your resume
Ever-changing work environment
Opportunity to improve your skills caring for diverse patients
Competitive base compensation, averaging about $126,000 per year according to Indeed
Excellent career benefits, such as:

Housing stipends to cover rent during your assignments
Travel stipends to pay for moving expenses
401(k) matching
Flexible vacation time — nurses often take time off between assignments
Comprehensive health insurance plans
Education assistance for pursuing an advanced nursing degree
Cons
There are also some challenges to being a travel nurse:
It can be stressful to learn each new facility so quickly
Forming relationships with coworkers is challenging when you're a short-term employee
You'll need to adjust to new protocols and systems with each assignment
Moving frequently is difficult for families with school-aged children
If you don't enjoy your assignment, you'll need to wait it out until the end of your contract before moving facilities
Is Travel Nursing Right for You?
Now that you have a thorough understanding of travel nursing and its many benefits, it's time to consider whether this career path is right for you. Do you have commitments at home that require you to stay close? If not, do you enjoy traveling and immersing yourself in new cultures? Consider your personality and whether you thrive in a fluid, flexible work environment with a lot of learning.
While some nurses continue traveling for a long time, others travel for a few years while they are still young and later get a position in their local healthcare facility while raising their family. Always remember to tailor your nursing career to your lifestyle and goals.
Start Pursuing Your Nursing Goals
If you're interested in pursuing a career as a travel nurse, good for you! At Concordia Texas, our hybrid online ABSN track can get you started by helping you earn your BSN sooner.
To be eligible for the accelerated BSN track, you'll need at least 60 prior non-nursing college credits or a bachelor's degree in a non-nursing field. There are also a few prerequisite courses you need to complete before starting the ABSN track. If you meet the requirements and get accepted, you'll be able to earn your BSN and start your nursing career in as few as 16 months.
To learn more about the ABSN track and how you can get started, fill out our online form, and our admissions counselors will get in touch with you. At CTX, we're committed to the success of our students, and we'll be here with you every step of the way as you achieve your nursing goals.