One Second Career Nurse's Journey from Police Officer to Nurse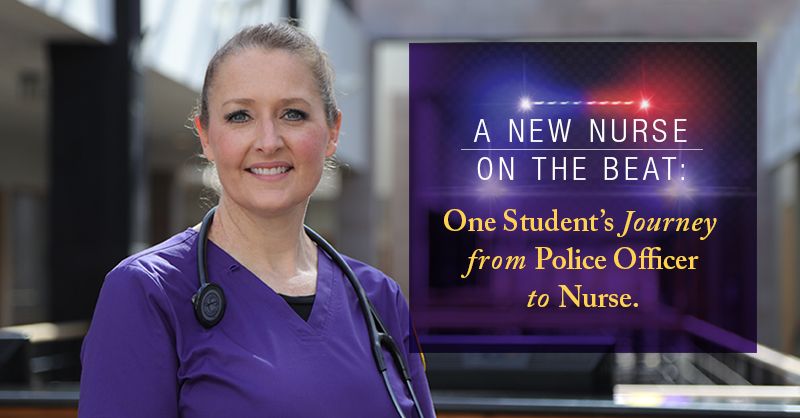 Typically, when we talk to second career nurses about their reasons for pursuing a career in nursing, dissatisfaction with a previous career and a lifelong dream of becoming a nurse come up. It's not as often that we hear from second-degree nursing students who genuinely loved what they did but nonetheless felt called to nursing later in their careers. However, that's exactly what happened for Shannon, who after 15 years on the police force decided to trade in her badge for a stethoscope and make the transition from police officer to nurse. Shannon, a current student in
Concordia University Texas' Accelerated Bachelor of Science in Nursing (ABSN) track
, had never considered a career in nursing. After graduating with a bachelor's degree in criminal science, she promptly went to work for the Dallas police department. But as she would later find out, God had a different plan for her.
"The last handful of years when I was a police officer, my husband and I had about six immediate family members get diagnosed with different cancers and terminal illnesses," she explains. "So there was like a four- or five-year period where we were working all day and going to the hospital at night for a long period of time." It was during this difficult time that Shannon came to appreciate fully the work nurses do — not just for patients but for their families as well. "It exposed me to the career of nursing and just the compassion they have," she says. "It was very moving to me to see that kind of compassion, and I went from watching it and really respecting it to wanting to be doing it." Inspired, Shannon set out to find a nursing program that met her needs. Namely, she wanted a program that incorporated her Christian faith and would let her earn her degree in relatively short order. After 15 years in the workforce, she just could not imagine taking four years off work to pursue her nursing education.
"I just decided to jump and go for it," says Shannon on her decision to make the transition from police officer to nurse.
Why Concordia University Texas?
It didn't take long for Shannon to find Concordia University Texas' ABSN track. Designed with second career nurses and others with at least some college experience in mind, the ABSN track allows students to earn a nursing degree in as few as 16 months upon successful completion of prerequisites. Offering three start dates a year and no waitlist to get in, not only could Shannon earn her degree in less time, she could get started sooner than with many other nursing programs. Once she talked to an admissions counselor, she knew Austin-based Concordia University Texas was the school for her.
"This was the only nursing school I actually applied to because when I talked to the nurse recruiter you could just feel this thread of faith that's intertwined in it," says Shannon.
Did you know?
Unlike many schools, which put a cap on science credits earned more than a certain number of years in the past (often five), Concordia University Texas accepts past science credits regardless of when you took them, whether it was just last year or 12 years ago. This is especially good news for future second career nurses who have been out of school for a while.
In no time, Shannon was working toward fulfilling the
prerequisite requirements
, which in her case included chemistry. While the exact number of prerequisites you'll need to take to get into the ABSN track depends on your past educational experience, there are four prerequisite courses distinctive to Concordia, two on leadership and two on the Bible. For Shannon, the New and Old Testament courses were an especially welcomed requirement, providing her the opportunity to learn more about her faith. "As a police officer, I worked so many hours I didn't have the time to read the New Testament and Old Testament and really critique it and learn about it," says Shannon. "I appreciated it was part of the program because I had time to do that finally." Though the process of applying for nursing school and fulfilling prerequisite requirements can seem overwhelming, Shannon was in good hands. Throughout the process, her admissions counselor remained in close communication, checking in on her regularly. "She was just so supportive of me through the process and she answered every question. She was honest about cost, timeframes, what to expect … there's a clear path laid out for you," she says. "I just knew talking to her this is where I was supposed to be."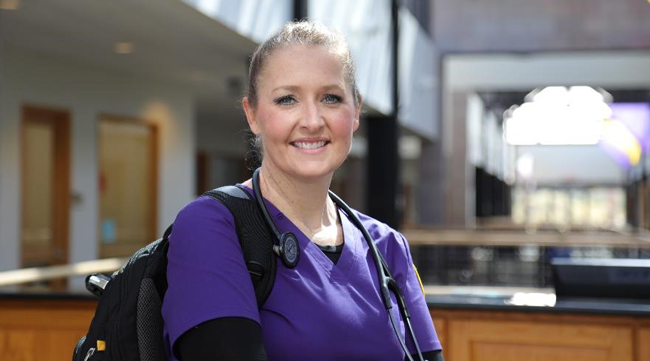 The ABSN Track at Concordia University
Now several months into her nursing education, Shannon couldn't speak more highly of her experience with the hybrid ABSN track, which blends online coursework, hands-on skills and simulation labs, and in-hospital clinical rotations at some of the area's top healthcare facilities. She's even really liking the
online coursework
, something she was apprehensive of at first. Being more used to a traditional classroom environment, Shannon initially found the online aspect intimidating, but that quickly changed. "When I started and was able to grasp it, and learned what I was doing, I really enjoyed it because I get to be at home at six in the morning in my pajamas with a cup of coffee in my 'class,'" she says. "You can fit it into your schedule better. I can do it at two in the morning if I had other things that day I had to do, and that's nice. It's very convenient." She also appreciates that while the coursework is online, you're never alone in your studies. Outside of labs and clinicals, students remain in close contact with each other and their instructors through discussion boards, which allow them to ask their questions, work and study together, and more. Not to mention the close contact between students and instructors. "You're not just having to reach out to them [your professors]," she explains. "They contact you to find out how they can help you."
Change Careers with a Nursing Degree
Whether you're thinking about switching majors or want to become a second career nurse, you're never too old to change careers. "Don't be afraid," advises Shannon. "After 15 years of police work and loving my job, it was scary to take that leap of faith and change career fields. But I think if you challenge yourself, it just keeps your mind young and functioning, and you just can't be afraid to take a risk." To learn more about how you can become a nurse in as few as 16 months with our Accelerated BSN track, give us a call at 866-891-1371 or
fill out this form
.